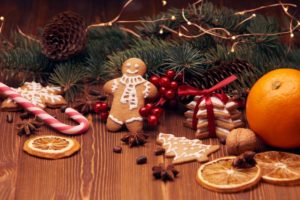 Now that it's December, the holiday season has officially begun. While that means plenty of quality time spent with friends and family, the holiday season also presents lots of opportunities for dental problems like cavities and broken teeth. In order to keep your oral health in good shape, a dentist is here to share five tips.
1. Use a Nutcracker, Not Your Teeth
Even though the protein in nuts can make your teeth stronger, it's not a good idea to test that strength by shelling nuts with your pearly whites. The hard surface of the nut shells can seriously damage your teeth and gums and may even crack your teeth. Your best bet is to safely shell nuts before eating them. Use a nutcracker. Its purpose is right there in the name.
2. Pass on Chewy Snacks
You'll most likely attend a holiday party with platters full of sticky treats, like caramel and taffy. These items can easily pull out fillings and dental crowns. Furthermore, they linger on your tooth enamel and attract bacteria that cause tooth decay and gum disease. It's best to steer clear of these kinds of treats, or at least eat them with other non-sticky snacks to prevent them from sticking to your pearly whites.
3. Don't Use Your Teeth as Tools
Your teeth are not the right tools for ripping open that carefully wrapped present from Grandma. Opening a bottle cap with your teeth is also not a good idea. Both of these activities can crack your teeth, requiring a crown or possibly even a root canal to treat. Save your teeth the trouble and use scissors or a bottle opener instead.
4. Avoid Chewing on Ice Cubes or Hard Candy
Another way to keep your teeth from getting cracked this holiday season is to not chew on hard candy or ice cubes. Let the hard candy slowly dissolve in your mouth. If you're finishing up your holiday cocktail, let the ice melt without chewing on it. In fact, it's best to avoid these items altogether. Ice can cause sensitive teeth, and sucking on hard candies bathes your teeth in sugar and promotes tooth decay.
5. Quit Biting Your Nails
While the holidays can be anxiety-inducing, you should learn to manage your stress in healthier ways than biting your fingernails. This habit is detrimental for both your nails and your teeth. Nail biting has been linked to sensitive teeth, jaw clenching, teeth grinding, and jaw problems. If you get the urge to bite your nails, pop in a piece of sugar-free gum instead. It will curb your need to chew something while also cleaning your teeth.
About the Author
Dr. Cale Beasley earned his doctorate at the University of Missouri at Kansas City. He maintains active memberships in the American Dental Association, the Colorado Dental Association, and SPEAR Education. He thoroughly enjoys helping all of his patients at his Littleton, CO practice feel relaxed in the dental chair. To learn more holiday oral health tips, you can visit Dr. Beasley's website or call (303) 794-1707.