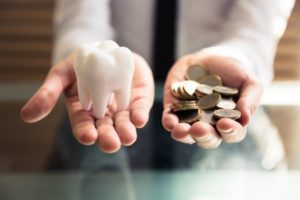 Most people like saving money and try to find opportunities to save whenever they can. For this reason, a lot of people skip out on their regular dental checkups and cleanings. After all, if you already brush and floss at home, do you really need to see the dentist? The answer is yes. Visiting your dentist the recommended two times a year isn't actually expensive, especially if you have dental insurance. What's expensive is neglecting these checkups. Keep reading to learn why going to the dentist a couple of times a year can save you money in the long run.
Diagnose Cavities
Many oral health problems, like tooth decay, don't display symptoms like discomfort or pain until irreversible damage has already been done. If your cavity has reached the point where it's causing a toothache, chances are you're going to need more than a filling to treat it. You may need a dental crown, a root canal, or even a tooth extraction. All of these procedures are more costly than a filling. At your checkups, your dentist can diagnose cavities while they're still small enough that treatment is relatively easy and inexpensive.
Treat Gum Disease
Gum disease is the most common dental problem in the world, but that doesn't mean you have to suffer through it. Regular dental cleanings remove plaque and tartar that contribute to gum disease. Although this condition starts out with mild symptoms like bad breath and bleeding gums, it can quickly escalate to the point where your teeth become loose in their sockets. In fact, gum disease is the leading cause of tooth loss in the United States, but regular cleanings can keep it at bay.
Avoid Complications
Potential tooth loss isn't the only serious consequence of dental neglect. Gum disease in particular has been linked to multiple other health problems, such as heart disease, diabetes, osteoporosis, Alzheimer's disease, and birth complications in pregnant women. Save yourself money in treating these complications by attending biannual dental cleanings.
Remove Teeth Stains
At your cleanings, the dental hygienist will remove minor stains on the surface of your teeth. Although the results aren't as dramatic as professional teeth whitening, they can get rid of discoloration as a result of habits like smoking and consuming richly pigmented foods and drinks. These visits can save you lots of money over trying to achieve the same results with over-the-counter whitening products.
It might seem counterintuitive that seeing your dentist twice a year can save you money. However, doing so will save you the cost of treating severe health problems down the road. If it has been a while since you last saw your dentist, give them a call today to schedule your next appointment.
About the Author
Dr. Cale Beasley is a dentist in Littleton, CO who studied dentistry at the University of Missouri at Kansas City. Since graduation, he has earned certifications in many different treatments, such as Invisalign, Six Month Smiles, and Botox. He has also taken numerous continuing education courses to hone his skills in advanced restorative dentistry. When it comes to dentistry, Dr, Beasley believes that an ounce of prevention is worth a pound of cure. To book your next checkup and cleaning with a dentist who cares, contact his office at (303) 794-1707.