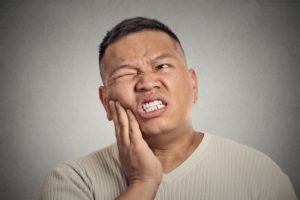 Unfortunately, there are a wide variety of factors that can cause tooth pain. The most common culprits are issues like tooth decay and weakened enamel that should be addressed at your next dental appointment. However, certain types of tooth pain could be warning you of a serious underlying condition that needs immediate attention. If your tooth pain is accompanied by any of these symptoms, you should schedule an appointment with your Littleton emergency dentist as soon as possible to save your smile!
1.) Sharp Pain
Dental discomfort of any kind should be looked at by your dentist in a timely manner. However, sharp pain could indicate that the sensitive inner layers of your tooth are exposed or infected. An infected tooth needs to be treated right away to prevent the bacteria from spreading to nearby teeth.
2.) Sensitivity
While tooth sensitivity can be caused by many things, it can sometimes indicate that issues like gum disease or a dental abscess are developing. Only your dentist will be able to determine the root cause of your sensitivity and the most effective treatment for it.
3.) Discoloration or Darkening
Did you know your teeth are actually slightly translucent? If your painful tooth starts to look darker than the teeth around it, the pulp inside may be seriously damaged or infected. You need to see an emergency dentist right away for the best chances of saving the tooth and protecting the teeth around it.
4.) Swelling in the Neck, Jaw, or Face
Swelling is a common sign of infection. If you have an infected tooth, the bacteria may travel to the glands located in the jaw or neck and cause them to swell. Seek immediate attention if you notice swelling with your toothache, as the infection may spread to other parts of your body.
5.) Puffy, Bleeding Gums
Inflamed gums that bleed easily are early warning signs of a common condition called gum disease. While leaving this bacterial infection untreated can lead to permanent damage, the earliest stages can be reversed if caught and treated early enough.
6.) Loose Teeth
The advanced stages of gum disease attack the jawbone and destroy the connective tissues that hold your teeth in place. If a permanent tooth is loose, it's in danger of falling out, so you need to see your dentist right away to stabilize it and protect the rest of your smile.
7.) Chronic Bad Breath or Bad Taste in the Mouth
The bacteria in an infected tooth will emit toxins that lace your breath with a bad smell and leave a foul taste in your mouth. If your toothache is accompanied by these symptoms, you should see your emergency dentist right away to contain the infection.
If you're still unsure whether your tooth pain requires urgent dental care, give your dentist a call anyways. They'll be able to assess your situation over the phone and determine whether you need to come in for a dental emergency.
About the Author
Dr. Cale Beasley is committed to helping the smiles of Littleton, CO stay happy and healthy for a lifetime. He prioritizes dental emergencies and offers same-day appointments whenever possible. With a comprehensive menu of treatments and a knack for helping patients in stressful situations, he can help you overcome whatever issue you're facing and get your oral health back on track. If you or a loved one is experiencing tooth pain, don't hesitate to contact him via his website or at (303) 794-1707.