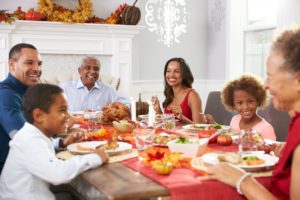 Delicious food, family and friends you haven't seen in a long time, and sugary desserts are most likely all things you would say you're thankful for, but have you considered adding your teeth to that list? During the holidays, looking after your oral health can easily be placed on the back burner. Take a moment to consider all the wonderful conversations you're able to have thanks to your teeth's ability to help you speak. What about the holiday food you can bite into and chew? Without a healthy set of teeth, you wouldn't be able to enjoy it as much! Below are some oral health tips that will help you ensure your teeth are ready for the upcoming holiday.
How Can I Take Care of My Teeth This Thanksgiving?
Thanksgiving gatherings are notorious for including savory foods and beverages galore, and while they are tasty, many are high in sugar, starch, and acid. Here are a few good oral health suggestions to keep in mind when you sit down at the dinner table this holiday:
Have floss on hand. Many families enjoy multiple types of goodies throughout the day during Thanksgiving. Whether you're enjoying an all-day event or a big meal together, it's important to floss after eating in order to prevent food particles from sticking to your teeth.
Be mindful of sticky desserts. Pies and sweet toppings are a staple of most Thanksgiving feasts, but their high sucrose content makes them prime cavity-causing treats. Be sure to rinse the sugar out of your mouth with water after enjoying a slice of pie.
Eat foods high in protein. Thanksgiving is all about comfort foods like rolls and mashed potatoes, but their high starch content makes them cling to teeth and stimulates cavity-causing bacteria. If possible, fill up on protein and grab a second helping of turkey instead of grandma's famous stuffing.
Be cautious about wine consumption. For many families, enjoying fine wine together is a big part of the holidays. It's important to be aware of the effect that the acid in the wine will have on teeth over time. It can cause stains and break down the enamel, which is a vital player in protecting your teeth against cavities. Instead of moving from one glass to another, have a glass of water in between in order to rinse off your teeth. Staying hydrated will also keep your mouth from drying out, which prevents the spread of bacteria.
If you're visiting relatives, pack a toothbrush and toothpaste. Brushing your teeth after meals is always a foolproof way to prevent the build-up of plaque and bacteria. Grabbing a travel set to take along is a great way to proactively keep your teeth clean.
Indulging in savory foods comes with the package during the holidays, armed with these helpful tips, you can enjoy yourself this Thanksgiving while still being kind to your teeth!
About the Author
Dr. Cale Beasley leads the exemplary team at Littleton Dental Studio. Every day, he strives to provide personalized care for every patient and to show them that taking care of their teeth doesn't have to be a stressful experience. He particularly enjoys making patients who are typically uncomfortable while visiting the dentist feel at home and at ease at his office. Get your smile ready for the holidays and give us a call at (720) 728-0125 to book an appointment for a check-up and cleaning. You can also visit us online to learn more.