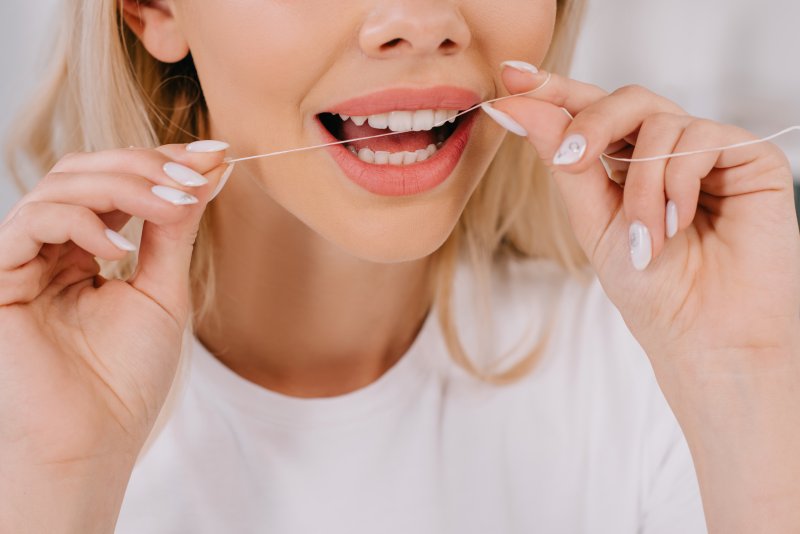 Even if you are diligent about brushing your teeth thoroughly two times every single day, you still will have areas that you are missing. This is because your toothbrush cannot reach certain areas of your mouth. This is where flossing comes into play. By flossing, you can remove plaque and bacteria from between the teeth and beneath the gumline. However, many people aren't flossing correctly on a daily basis. Here are some common flossing mistakes that you need to avoid in order to achieve optimal oral health.
Staying Above the Gums
Flossing isn't just about removing food and plaque from between the teeth. It is also a way to remove buildup from beneath the gumline. Remember that you should be pulling the dental floss down about two to three millimeters below the gumline to keep the gums healthy. This way, you can better protect yourself against periodontal disease.
Stopping Because of Blood
If you notice that there is blood when you floss, this is generally a sign that your gums are inflamed, and you should actually be flossing more often. Once you get into a good habit of flossing each day, this should eventually stop happening.
Too Aggressive
Snapping the string into your gums or being too aggressive can do more harm than good. This can cause trauma to the soft tissues in the mouth and result in gum recession. Do not saw at the base of your gumline either. Always be gentle when flossing to avoid hurting your smile.
Not Enough Floss
It's difficult to thoroughly clean your teeth if you aren't using enough dental floss. According to the American Dental Association, you should be using about 18 inches of floss every times you brush your teeth. Wrap the extra string around your fingers and use a clean area of dental floss between each tooth.
Out of Order
It isn't bad to brush before you floss, but the other way around has shown to be more effective. According to a study in the Journal of Periodontology, the participants who flossed before brushing tended to have less plaque left behind. Also, the fluoride in your toothpaste is more likely too coat areas between your teeth if you have already flossed beforehand.
Partial Flossing
Many people think that they have a great routine of flossing every day, but they are only going up and down with the string. Instead, you should wrap your tooth with the floss so that you clean the entire area. Make a c-shape around your tooth and slide it up and down.
Wrong Time of Day
There isn't a bad time of day to floss your teeth, but doing so before bed is especially crucial. This is because your saliva flow decreases when you are sleeping. The food particles that are left behind are even more likely to begin the bacterial breakdown process. By flossing before bed, you can avoid inflammation and tooth decay.
As great as flossing is for your oral health, you aren't doing much good if you are making these critical mistakes. Make sure that you are flossing properly so you can prevent oral health issues and keep your smile in good shape going forward.
About the Author
Dr. Cale Beasley earned his dental doctorate from the University of Missouri at Kansas City and has been committed to continuing education ever since. He is currently a member of the American Dental Association, Colorado Dental Association, and SPEAR Education. To learn more about proper oral hygiene or to schedule an appointment at his office in Littleton, CO, visit his website or call (303) 794-1707.