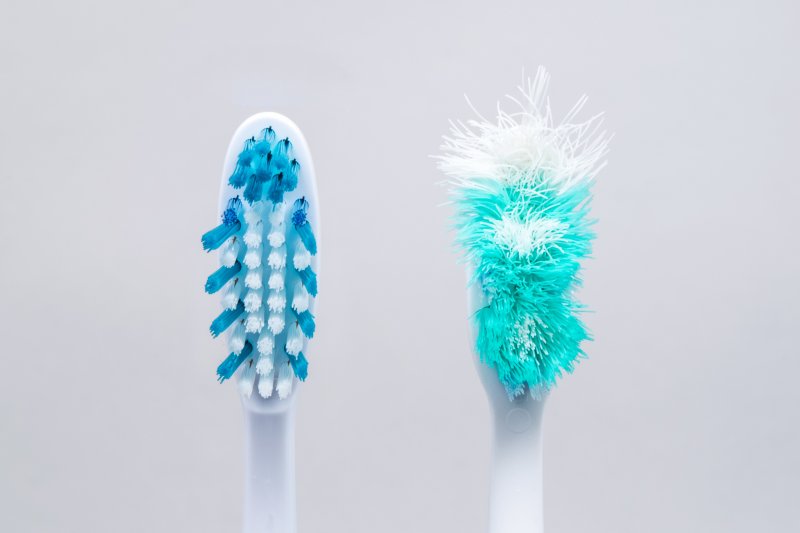 Whether you use a manual or electric toothbrush to clean your teeth twice a day, it won't be doing much good if it has passed its prime. Do you remember when the last time was that you got a new one? Most people don't know how long they should wait until they should invest in new dental tools. Continue reading to learn when you should change your toothbrush and some steps you can take to get the most out of it.
When Should You Replace a Manual Toothbrush?
If you are like the majority of people and use a manual toothbrush in order to clean your teeth, the Centers for Disease Control and Prevention (CDC) recommends that you should be replacing it approximately every three to four months. When you have it for longer than that, the bristles will continue to fray and will not be nearly as effective at removing food debris, plaque, and bacteria from your teeth. The more that is left behind, the more likely that you are to develop issues like cavities and gum disease in the future.
When Should You Replace the Head of Your Electric Toothbrush?
For people who use an electric toothbrush, replacing it every 12 weeks is usually sufficient. This needs to be done more often because the bristles on an electric toothbrush tend to be a little bit shorter than the bristles on a manual one. Because of this, the bristles become frayed more quickly and need to be replaced so you can achieve optimal oral hygiene. In fact, you may even want to replace the head sooner if you notice that the bristles aren't looking like they're in the best shape.
How Can You Make Your Toothbrush Last?
In order to get the most out of your toothbrush, keep the following tips in mind:
Don't store your toothbrush in a place where it can make contact with the head of other brushes.
Rinse your toothbrush after each time you use it.
Never share a toothbrush with another person, even if you are very close.
Don't keep your toothbrush in a closed container. This is the perfect environment for bacteria and mold to thrive.
Never use soap, disinfectants, or mouthwash to clean your toothbrush.
In order to keep your smile in the best shape possible, it is important that you are using proper dental tools. And an old, frayed toothbrush is not one of them. By replacing your toothbrush when needed and seeing your dentist regularly for cleanings and checkups, you'll be well on your way towards maintaining excellent oral health!
About the Author
Dr. Cale Beasley earned his dental degree from the University of Missouri at Kansas City and is still continuing to completing education in a variety of topics. Currently, he is a member of the American Dental Association, Colorado Dental Association, and SPEAR Education. For more information on proper oral hygiene or to schedule an appointment at his office in Littleton, CO, visit his website or call (303) 794-1707.