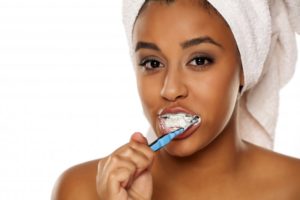 Is Valentine's Day the only time to show love in February? A local dentist says, "of course not!" Designated as Heart Health Month, this is the perfect opportunity to show your heart that you care. You can accomplish this by committing to excellent dental health. If you're wondering how this relates to your cardiovascular wellness, continue reading to get the answer!
The Gums are the Key
Although oral bacteria are always present in your mouth, the number of them present can vary greatly. Excellent dental care can limit their growth and prevent the related dental health problems that can come about. If there is dental negligence, the chances of having issues can greatly increase.
Consuming an abundance of sugary foods and beverages can become especially problematic, as bacteria are attracted to the leftovers. When they feed on the residuals, caustic fluids are released that eventually lead to plaque growth. If the sticky substance is allowed to travel beneath the gum line, the soft tissue can become inflamed (called gingivitis).
The first stage of gum (periodontal) disease, untreated gingivitis can result in permanent damage to the ligaments and other connective tissue that secure teeth. To make matters worse, the bacteria can migrate to the heart and contribute to clogged arteries, which can translate into cardiac arrest or heart disease.
5 Ways to Protect Your Heart
The good news is that you play an active role in the quality of your heart health. Here are some steps you can take to fortify your cardiovascular system:
#1 – Brush Your Teeth Properly
To see maximum benefits from toothbrushing, clean your teeth for two minutes each session. You should also brush at least two times a day to better control oral bacteria growth.
#2 – Don't Skip Flossing
You can only clean around 60% of the surfaces of your teeth with toothbrushing. To remove the remaining debris, use flexible dental floss. It allows for probing the tight spaces between your teeth.
#3 – Avoid Tobacco Products
Tobacco usage can cause havoc to your dental health. Whether smoked or chewed, it releases harmful toxins in the mouth that can encourage gum and heart health issues.
#4 – Know Your Risk Factors
Based on your age, family history and the current condition of your health, you may be more susceptible to gum disease or other dental health issues that impact your heart. When you visit a dentist for a checkup, don't hesitate to share any pertinent information, as it will help him or her provide the most effective care.
#5 – Maintain Regular Dental Visits
You should be visiting a dentist every six months for cleanings and checkups. If you have a history of cavities or gum disease, the dentist will likely want you to visit more often, as the more frequent monitoring will provide greater protection for your dental and cardiovascular health.
The biggest takeaway is that your total wellness rests in your hands. Being more proactive about making the appropriate adjustments will pay off hugely.
About the Author
Dr. Cale Beasley earned his dental degree from the University of Missouri at Kansas City. To stay abreast of the ever-changing world of dentistry, he takes several hours of continuing education annually and maintains professional affiliation with SPEAR Education and other organizations. Dr. Beasley offers preventive and restorative gum treatment at Littleton Dental Studio, and he can be reached for more information or to schedule a visit through his website.