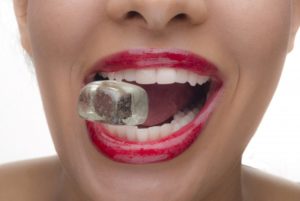 Summer is almost here! It's time to remember to stay hydrated and enjoy your favorite frosty beverages. However, if you chew on ice to cool down, now is the time to stop! This seemingly harmless habit weakens and damages your teeth over time. Before you know it, you may be spending your summer vacation visiting your emergency dentist for a chipped or cracked tooth. Read on to learn more about the dangers of chewing on ice and how to kick this destructive habit.
Chewing on Ice VS Your Oral Health
Your tooth enamel is incredibly strong. In fact, it's even stronger than your bones! However, it's brittle. This means that it can be damaged by materials that are softer than it, such as ice. The excess pressure caused by chewing on ice gradually wears away your enamel. In fact, the pressure of chewing on ice spreads throughout your mouth to cause a host of problems, including a higher risk of tooth discoloration, cavities, and more! You may need to see your dentist to repair the damage caused by this bad habit if you experience:
Jaw stiffness or soreness
Tooth sensitivity to hot or cold temperatures
Cracked or loose fillings or crowns
Chipped or broken teeth
How to Stop Chewing on Ice
Like breaking any bad habit, teaching yourself to not chew on ice may be difficult, but doable. Here are a few helpful tips to get started:
Drink cold beverages, smoothies, or eat popsicles.
Try just sucking on the ice instead of chewing it.
Switched to crushed or nugget ice instead of ice cubes
Find something else to crunch or chew, such as sugarless gum or an apple
Is Anemia the Cause of Your Habit?
Researchers aren't exactly sure why yet, but studies show that the craving to chew on ice can be an indicator of anemia or iron deficiency. Some speculate that the cool ice may soothe inflammation in the oral tissues that often accompany specific deficiencies. If you have insufficient iron levels, chewing on ice may feel as rejuvenating as drinking a strong cup of coffee.
If you're having a particularly difficult time breaking your ice-chewing habit, it may be time to get a physical checkup to see if anemia is the cause. The good news is that in nearly all cases, getting the proper treatment for anemia stops the craving for chewing on ice. Your doctor may also be able to help you determine if other factors are at the root of this bad habit, such as anxiety, boredom, or diet changes.
There's no doubt that staying hydrated and cool during the hot summer months is important, and ice can be a big help in that regard. But don't put your smile and your summer in danger by chewing on ice!
About the Practice
Dr. Cale Beasley of Littleton Dental Studio is proud to offer compassionate, convenient, and high-quality oral healthcare for smiles of all ages. He strives to help his patients stop bad habits and prevent dental emergencies with personalized preventive care during every dental checkup. But should something happen, he offers same-day emergency appointments to help quickly get you out of pain and back to enjoying a healthy smile. To learn more, he can be contacted via his website or at (303) 794-1707.