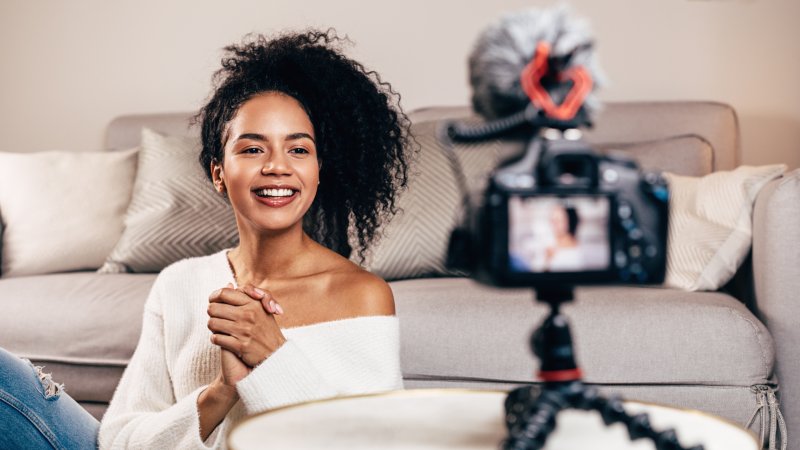 One day while watching the last video from your favorite social media influencer, they mention something about having work done on their pearly whites. You always thought that their gorgeous grin was just due to good genetics, but they mention that veneers are to thank for their winning smile. Believe it or not, there are tons of social media stars who have veneers to correct cracks, chips, discoloration, misshapen teeth, and minor alignment issues. Read on to learn about five social media influencers with veneers.
5 Influencers Who Have Veneers
Whether their platform is based around music, art, makeup, or comedy, even social media stars aren't born with perfect smiles. For many, fixing problematic pearly whites is a way of making themselves more engaging to their existing audience as well as catching the attention of people who are just passing through and convincing them to stay awhile. A few popular influencers who have veneers include:
Jeffree Star
Huda Kattan
Gigi Gorgeous
Tana Mongeau
Gabi DeMartino
How Veneers Help You Build a Social Media Following
Now that you know what internet stars can contribute their beautiful beams to veneers, how can they benefit someone who is interested in building up their social media following? Along with the improved self-confidence that comes with having a brighter, whiter smile, a few ways veneers can help you capture the attention of internet goers include:
Natural beauty – To attach veneers to your teeth, your dentist will remove a thin layer of enamel. This will allow them to fit snugly against your teeth so that they seamlessly blend in with the rest of your smile.
More beautiful photos – Have you ever looked back at old photos and been less than impressed with the look of your smile? With veneers, your photos will be on another level! This is particularly important for people who post a lot of pictures of themselves on social networks like Instagram.
Long-lasting – As long as you take good care of them, you can make your veneers last 15 years or longer. To do so, make sure to brush your teeth in the morning and before you go to bed. You should also floss at least once per day, preferably after your last meal, to get rid of any plaque or food particles that can't be reached with a toothbrush.
Whether you're looking to go viral or just want to feel more confident in yourself, veneers are an excellent way to improve the look of your smile. Set up a consultation with your dentist to see if they're the right option for you. The smile of your dreams is within reach!
About the Practice
If you want to gain an internet-ready smile, Dr. Cale Beasley and his skilled team at Littleton Dental Studio can provide the help you need. They work with a trusted dental laboratory that crafts your custom-made porcelain shells so that they perfectly fit your pearly whites. Before you know it, you'll be sporting a gorgeous grin that will have new followers flocking to you! Call Littleton Dental Studio at (303) 794-1707 or visit their website for more information on porcelain veneers or to schedule an appointment.