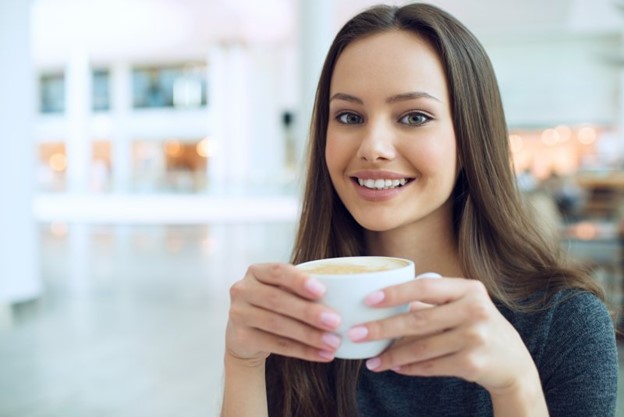 Your waitress sets a steaming-hot cup of coffee down in front of you—two creamers, two sugars, and one spoonful of cinnamon. Just how you like it. But as you prepare to take your first sip, you freeze up and remember something important; you're wearing brand new Invisalign trays! You scratch your head, puzzled, and wonder if you're allowed to enjoy your favorite beverage now that you're undergoing Invisalign treatment to correct your crooked smile. Here's everything you need to know about safely consuming coffee without compromising your Invisalign!
Why You Shouldn't Drink Coffee While Wearing Your Invisalign Trays
Your dentist has probably mentioned this, but you should avoid drinking most beverages while you're wearing your Invisalign trays. Coffee is no exception—like many other drinks, it contains staining agents that can easily discolor your trays, much like how they can stain your natural teeth! Coffee is also extremely acidic and often contains sugary additives, both of which greatly increase the risk of tooth decay. Lastly, your Invisalign trays are made of a heat-sensitive thermoplastic that can easily become warped and disfigured when exposed to high temperatures, like hot coffee. You should only drink water while you're wearing your Invisalign trays, period.
Tips For Enjoying Coffee During Your Invisalign Treatment
The good news is that you don't have to entirely give up coffee during your Invisalign treatment, if you're careful! Here are a few tips for enjoying coffee without compromising your treatment:
Remove your trays – If you're going to drink coffee or anything other than water, you should remove your trays and safely store them in their carrying case.
Drink quickly – Since you need to wear your Invisalign trays for 22 hours a day, you should enjoy your coffee quickly rather than sipping it slowly to minimize the time your trays spend outside of your mouth.
Skip the sugary additives – Part of what makes coffee so tasty but so bad for your oral health is the high number of sugary additives that are often included. Reducing the amount of sugar that you add to your coffee can help to reduce the risk of bacteria growing on your trays.
Brush or rinse afterwards – You should brush or rinse your teeth after drinking a cup of coffee and before putting your trays back in.
If you're a regular coffee fiend, don't worry! You can still enjoy your favorite beverage without compromising your Invisalign treatment; just be careful, follow these tips, and ask your dentist if you have any specific questions.
About the Practice
Littleton Dental Studio is proud to serve patients and families in the Littleton community under the leadership of Dr. Cale Beasley. Dr. Beasley completed his dental doctorate at the University of Missouri at Kansas City and has several years of experience and expertise in a variety of fields. He is an active member of the American Dental Association, the Colorado Dental Association, and SPEAR Education. His practice offers many available services including Invisalign! To schedule a visit, please visit his website or give him a call: (303) 794-1707.